Since the previous message (of 3.10.19, below), Chris and Deirdre Harrington wish to announce that they have reserved the usual venue in Tibberton for the second weekend (10th-12th) of July 2020. Anyone who may wish to contribute time, effort, a BBQ, or other resources, to help make the next event happen, please contact this web site.


email:


3 Oct 2019
We had fun over the last 30 years. An annual event has been hosted in the U.K. which came to attract up to 70 riders for a wonderful weekend of cycling, socializing, making new friends and renewing contact with established ones. The event came to embody something which goes beyond our passion for a peculiar brand of bicycle. Unlike some other vintage cycling events, this one was very relaxed and casual: there were no restrictions on attire (some events insist on period-clothing), or on the choice of vehicle (non-Hetchins were always welcome, some people even brought vintage motor vehicles to the event). No prizes were awarded for the grottiest bike. Nonetheles, the event attracted visitors from as far away as the USA, Canada, and Australia.

The format of the weekend remained largely unchanged for the last 20 years. This greatly contributed to its success. I would like to summarize some of the key features:
1. Venue
2. Rides
3. Activities
4. People
5. Accommodations

I shall detail the items below.

1. The venue remained the same for many years, centered on the Tibberton & Taynton village hall and pitch, with a brief hiatus when it moved to Kingsland/Leominster (hosted by Dave and Shirley Hinds). This had several advantages. We knew exactly what we were getting, there were no unpleasant surprises, and it was cheap to rent. The venue offered basic facilities: light, water, electricity, kitchen, showers and toilets, an indoor function room with tables and chairs to accommodate up to 100 people, a safe space for locking up bikes at night, and a pitch for those who wished to come with tents or mobile homes/caravans. The venue in Leominster offered much the same amenities, and was ideally suited to our needs.

2. The rides in the vicinity (Forest of Dean) offered a number of safe routes (away from A and B roads), mostly paved (very little packed dirt or gravel), criss-crossing the lovely (and, for me, typically English) countryside, with rolling hills, hedgerows, farms, sweet towns (Newent) and villages, and ample opportunities to arrange stops for coffee and cakes and/or pub lunches. There were ample opportunities for people to diverge from the planned route to take in other sights/sites of interest, or to take shortcuts. As we had visited this area so many times before, most riders hardly needed printed directions. But if anyone got lost or off the track, it was needful only to wait for some other Hetchins riders to come by and tag along with them. Worst case, one would find a pub somewhere, get a drink and a snack, and carry on. All roads eventually lead back Newent, and it is a straight shot from Newent back to Tibberton.

3. Activities (in addition to the planned rides) tended to be of such an informal nature that someone new to the event might think we were just making it up as we went along, ad hoc, muddling through. But actually, it was all running like clockwork because we had been doing it for so many years. What made it look so easy was that everyone (everyone, that is, who had been there at least once before) knew exactly what to expect. The marvelous thing was that people pitched in and helped without anyone's appearing to direct it, much less explicitly telling people "now do this," "now do that." A printed programme was 'magically' issued listing the riders and the routes (more on this below), with a Hetchins-related photo on the cover. Emails with a booking form were sent round to all likely participants. People baked cakes and quiches in advance which 'magically' appeared on schedule for the guests. There was a Saturday night auction and mounds of items 'magically' appeared on the stage Saturday afternoon which would later be sold off and the money donated to charity. A BBQ was 'magically' ignited for the Saturday evening roast ... food 'magically' appeared in the fridge for people's DIY breakfasts ... and so on and so forth. Of course, it wasn't magic; it was organized (by Tony and Judy, or Dave and Shirley). Someone (Tony and Judy) had gone shopping on Friday morning and bought the right amount of food and supplies for the expected number of guests; someone had maintained a list of eddresses of previous participants, someone took care of the printing of the programmes and the mailings, and so on. All this required planning, and because Tony and Judy had done this for 20 years, they had it down to a fine art -- they knew just who to contact to get these things arranged on time. And because the regular attendees knew exactly what to expect, they too knew when to pitch in and help (with cooking, or washing up, or stacking chairs, etc. etc.) without anyone's having to tell them to do so.

Note: this Editor received feedback from one rider, new to the event, that the printed route descriptions were insufficiently detailed or insufficiently accurate.

4. The people: now, I know what you're thinking. We're mostly a bunch of ageing eccentrics with a foible for weird bikes. But that's not what I mean here. What I want to mention here is, why this bunch made the event so successful and so much fun for so many years. To a newcomer, it looked unfocused, almost anarchic, but what made it work was that each person did what he or she did well -- one thinks, for example, of the heckling Paul and Ray put up with on auction night (all in good fun), or John Geal's bugling the troops to assemble. Gordon always brought some interesting restoration project with him, in progress or magnificently completed. Flash polished and cleaned a good many muddy bikes (most of the bikes featured at the Gallery section of this web site were photographed and documented at Hetchins weekends). It was marvelous to see the Gardners, father and daughter, she riding his beautifully restored 1950s bike. I could go on, but you know who you are.

A good many people came just for the socializing, even if they did not ride. Some followed along in motor vehicles and joined the riders at the coffee stops. As we came to appreciate in the last few years, because some of the regulars had passed away, it's not about the bike -- it never was. We enjoyed each other's company.

5. Accommodations in the vicinity of Tibberton ensured sufficient B&B offerings within cycling distance to accommodate those who do not wish to camp on the pitch. This had an advantage over the alternative (booking an entire hotel large enough to accommodate everyone, put on breakfasts and dinners, provide function rooms, store the bikes, etc. etc.): separate B&Bs allowed each participant or couple to decide for themselves where they wanted to stay, for how many days (some came only for one day and needed no overnight accommodations), how much they wanted to pay, etc. This kept expenses very low for the entire event and allowed maximum flexibility for each participant. The alternative (booking an entire hotel) can work, but it can also disappoint (for reasons not foreseen); for example, if the food or service is not up to expectations, many people are disappointed (though not all will say so). Whereas if one B&B cancels at the last minute, it is fairly easy for one person or couple to re-book elsewhere.

Now, if all the above sounds a bit nostalgic, it is because Tony and Judy gave us fair warning two years ago that 2019 would be the last time they would host and organize the event, and they appealed for volunteers to come forward to carry on. As of this writing, no one has come forward. I think I know why: as much as we all wish for it to carry on, as if by magic, no one could fill their shoes. It seems too daunting a task. They did such a good job, and made it look so easy (we all know it wasn't), that no one feels up to trying to duplicate their success. And I agree -- no one could. At the conclusion of the Saturday night festivities, we, 'the smell of the crowd and the roar of the greasepaint,' showed our appreciation to Tony and Judy by presenting them with heart-felt thanks for their dedication and service. It was a fitting moment for a job well done. After which Trevor stood up and made an empassioned appeal for us not to let the event lapse.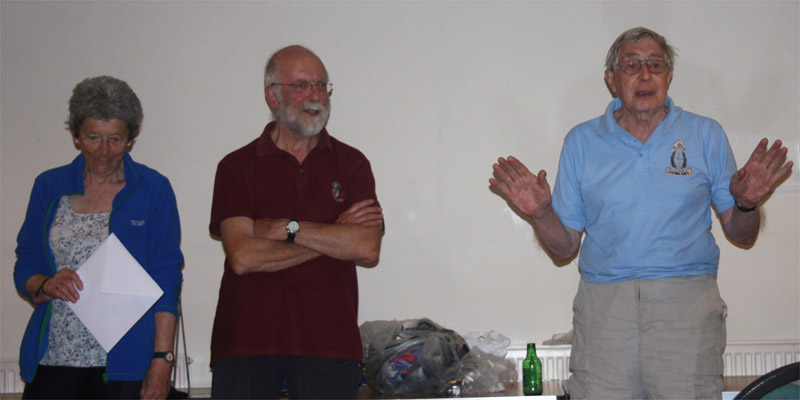 So, it is up to us now to carry on. I have some ideas how to do it.

First, we should take note of the items above, which contributed to success in the past. This is not to say anyone should (or could) try to duplicate every point in every detail, but just to take note what worked and what we valued most about the event (it's not about the bike).

Second, no one person (or couple) could possibly start from scratch and put on such an event, covering all the bases (venue, rides, activities, amenities, accommodations, food, safe place for locking up bikes, etc. etc.). Experience from similar events indicates that a group of people working together would be necessary to plan it, get it off the ground, and keep it running smoothly. Someone is needed who can coordinate and delegate; others are needed who can take on specific tasks, such as scout out venues (if it is not to be Tibberton or Leominster again), scout out accommodations in the vicinity (whatever vicinity it turns out to be), pre-ride routes, contact pubs and coffee shops, arrange food (catering or whatever), etc. That is, breaking the event down into managable tasks and sub-tasks, and coordinating people who are willing to donate their time to specific tasks, makes it feasible.

Third, Judy informed me that if someone were to approach Tony and Judy for advice, they would be forthcoming as to what worked and what did not.

Fourth, it might make sense to try to host the event again one more time in Tibberton, with other people organizing, so we get the hang of organizing on this scale, but without the hassle of having to do everything (finding a new venue, finding new routes, finding new B&Bs, catering food, etc.) from scratch. Judy said she would provide the next organizers with her contacts for supplying food (cheeses, ham) and 'her cooks' (cakes and quiches), if it were to be held at Tibberton again. Assuming that works, we could then contemplate moving to some other venue for future events.

It might be more feasible to plan a bi-yearly, rather than an annual, event, but that assumes we do it again at all, of course.

It seems to me that this web site, and my eddress, could function, at least initially, as a suitable convergence point for people to share ideas and come up with a concept, how to carry on.

I look forward to hearing from anyone with ideas.

Regards & tailwinds,
Flash
the Editor